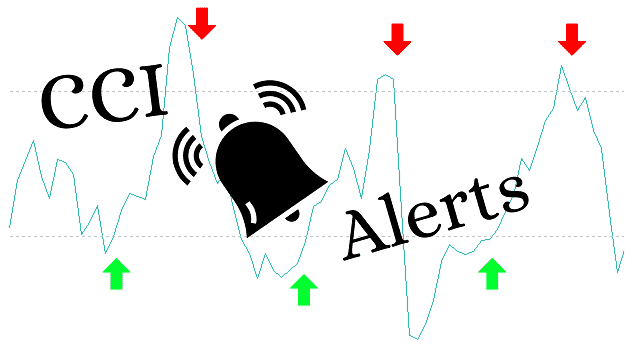 Alert CCI indicator
CCI indicator with alerts for MT4
Please fill out this form to receive an email with the download link.
Download the demo version and run it in the MT4 Strategy Tester.
CCI (Commodity Channel Index) Alert with Arrows
CCI Indicator
CCI Alert with Arrows is a highly configurable Commodity Channel Index indicator notifies you when the CCI enters or out in an Overbought or Oversold zone. When utilizing CCI (Commodity Channel Index) oscillator, the holding up time till the following sign can be long enough depending on a timeframe. CCI indicator with alert keeps you from missing the indicator signals. This indicator will save you many hours in the markets.
The indicator does not draw the Bollinger Bands on the chart to keep the charts clean. Otherwise, you can load it manually on the graph.
Features
It gives the ability to modify the level of overbought and oversold.
Displaying arrows.
Sending pop-up messages to the mobile terminal.
Parameters
**** CCI Settings ****
Period
Upper Level
Lower Level
**** CCI Signals ****
Crossed from top to bottom Upper level - True
Crossed from the bottom up Upper level - False
Crossed from top to bottom Lower level - False
Crossed from the bottom up a Lower level - True
**** Alert Settings ****
Enable Sound Alert - Message box alerts.
Enable Mobile Notification - Mobile phone alerts.
Enable Arrows - Draw arrows signals.
CCI indicator
Commodity channel index with alert is a classic CCI indicator that issues an automatically triggered alert when a predetermined threshold is exceeded.