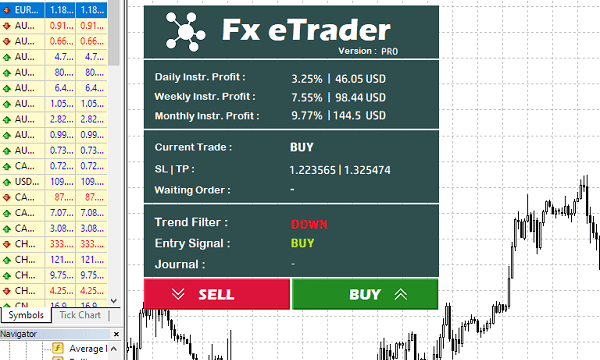 FX eTrader EA
Trading Bot for Metatrader 4
Please fill out this form to receive an email with the download link.
Download the demo version and run it in the MT4 Strategy Tester.
Trading Bot for Forex, Stock & Crypto
Automated Trading System
The Fx eTrader trading bot has become essential today for trading Forex, crypto and stocks. It allows the trader to automate his trading strategy in fully automatic or semi-automatic mode. With this automated trading system, the Trader defines the conditions under which he wishes to buy or sell the market based on a number of parameters such as the direction of price movements and entry rules, and then transforms this set of conditions into an algorithm in fully automatic or semi-automatic mode. In fully automated mode: the trading bot is completely independent once started, the trader can indeed choose to modify the parameters of his trading strategy or not to run it during certain periods. In semi-automatic mode: the final decision remains in the hands of the trader, the trading bot looks for opportunities and sends buy or sell signals to the trader when it detects entry signals. The use of this automated trading system saves precious time since once the algorithm is launched, the trader will only have to monitor his performance to ensure that the program behaves as expected.
For more technical information, please see this page
Features
3 trading modes: fully automated, semi-automatic, manual.
Identify new opportunities and analyze the financial markets using numerous indicators.
Automate your trading strategy and reduce the emotional impact.
Orders are executed automatically, day and night.
Parameters
Settings File Name : parameters file name (the file downloaded from the site fx-etrader.com)
Trading Mode : Fully automated, Semi-automatic, Manual
Show Dashboard : display dashboard
Show Settings Table : display the parameter table