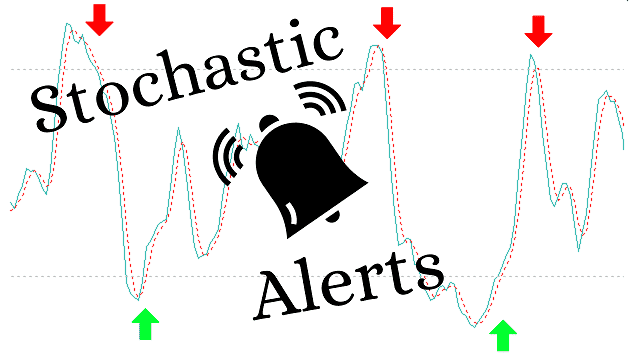 Stochastic Alert
Stochastic indicator with alert for MT4
Please fill out this form to receive an email with the download link.
Download the demo version and run it in the MT4 Strategy Tester.
Stochastic oscillator Alert with Arrows
Stochastic Indicator - Stochastic Analysis
Stochastic Indicator with Alert is a customizable indicator used to send alerts when stochastic signals happen. It alarms you to buy and sell signals dependent on your stochastic oscillator on the desired levels (80/20 by default).
The indicator does not draw the Bollinger Bands on the chart to keep the charts clean. Otherwise, you can load it manually on the graph.
Features
It sends signals when Oversold and Overbought zones are reached.
You can modify the level areas for Oversold and Overbought.
Parameters
**** Stochastic ****
K Period
D Period
Slowing
**** Stochastic Levels ****
**** Alert Settings ****
Enable Sound Alert - Message box alerts.
Enable Mobile Notification - Mobile phone alerts.
Enable Arrows - Draw arrows signals.
Stochastic oscillator indicator
Stochastic oscillator indicator with alerts is a stochastic indicator that sends buy and sell signals when a candle reach at overbought or oversold level.