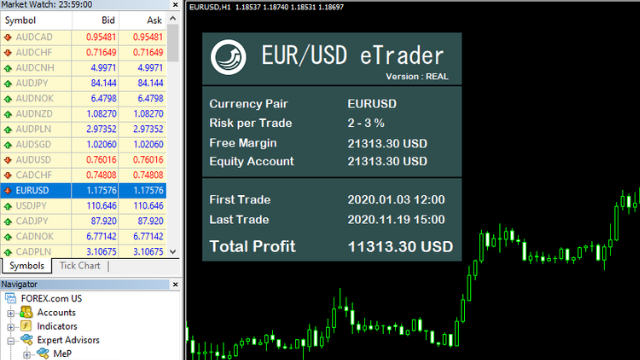 EUR/USD eTrader
Trading robot for Metatrader 4
Please fill out this form to receive an email with the download link.
Download the demo version and run it in the MT4 Strategy Tester.
Automated Forex Trading Robot for EUR/USD
eTrader - Expert Advisor MT4
EUR/USD eTrader is an automated trading system that performs automated trades on behalf of its clients. He analyzes the movements of the financial market in order to try to spot investment opportunities. This Expert Advisor trades in swing trading mode and opens only one position at a time while ensuring an extremely low drawdown.
Perfectly secure, each order is protected by a fixed stop loss.
This program claims to generate earnings of 20% per month with a 97% success rate.
Features
100% automated trading robot. No trading skills required.
Saves you time because speculation is done for you.
Each position is protected by a stop loss.
Parameters
Risk Per Trade - The maximum loss allowed per trade
Enable Dashboard - Show or hide the dashboard.
Recommendations on usage
This trading robot only trades the EUR/USD currency. Operates on only the H1 timeframe.
Back testing the forex robot
Initial balance: $10000 Final balance: $21313 Total net profit: $11313 Risk per Trade: 2-3% Period: 2020.01.01 - 2020.11.31



How to test this trading robot?
See here how to test the Swing Trading EA using the Strategy Tester
This Forex robot trader is about: eTrade - eToro automated trading - EA Forex robot for MetaTrader 4 - Best Bot trading Forex
Manage and control your own funds using this Expert Advisor on MetaTrader 4 software